Back
Book review: The EU's Foreign Policy: What Kind of Power and Diplomatic Action? Download Article: The full text article is available externally. The article you have requested is supplied via the DOAJ. View from original source.
In Journal of Contemporary European Research, Volume 10, Number 4, 2014,
With an international team of foreign policy experts, the editors provide a clear and critical account of EU foreign policy with special reference to the Lisbon Treaty, the global financial crisis of 2007-8, as well as those structural constraints arising from the emerging multipolar world order. The book portrays the EU as a 'civilian power by default', while explaining the limited efficiency and effectiveness of post-Lisbon EU foreign policy.
Link: here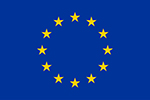 This project receives funding from the European Union's Horizon 2020 research and innovation programme under the Marie Sklodowska-Curie Grant Agreement No 722826.