Shared Data-set
GEM-STONES fShared Data-set is a project-wide endeavour ultimately serving as a collectively compiled empiric resource based on a common data collection strategy. It thus compiles empiric resources and gathers a variety of data determined by the individual 15 ESRs but collected along a coordinated strategy. The data-set is based on a common online platform that provides purposeful management of, and protected access to the information shared by the researchers. The content of the data-set includes bibliographical references, research data listings and working papers as well as other selected publications.
Use of the data-set allows the 15 contributing ESRs to:
Check inter-operability and reproducibility of their data
Peer-review both work and coding
Collectively write and research
Foster synergies of scale
Boost cross-referencing
Effectively disseminate their work as ultimately, the fountain of information resulting from the collective research project endeavour is to nourish research beyond the lifespan of the project
The ESRs have received training on the use of the data-set, and will make their data publicly available following the submission of their thesis.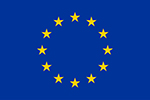 This project receives funding from the European Union's Horizon 2020 research and innovation programme under the Marie Sklodowska-Curie Grant Agreement No 722826.