News & Vacancies
You can find here announcements from across the GEM-STONES Consortium, including available vacancies and funding, as well as Calls for Papers/Proposals. Like our Facebook Page or subscirbe to the GEM-STONES Newsletter to stay informed about the latest developments!
Please note: All 15 available fellowships have been awarded, and there will no Call for Applications for the Academic Year 2019-2020.
NEWS
Manfredi Valeriani wins the first #HackForSDGs
[22-05-2019] During the International Cooperation Expo organised in Rome on 15th-17th May 2019, the FAO, the Future Food Institute and Prima Foundation organised the first ever hackathon for Sustainable Development Goals (SDGs). GEM-STONES fellow Manfredi Valeriani applied to participate together with Alumni of the summer school on sustainable development promoted by the Italian Alliance for Sustainable Development (ASviS), with an idea inspired by Luisa Guidotti's story. During the different sessions of the hackathon the group was enlarged, and the contribution of the other members lead to the creation of the final idea: an online platform where people can share stories and best practices related to the SDGs to inspire others to take action. The idea lead the team (working under the framework of #SDG4) to victory together with other two teams. Among the other members of the team, Manfredi was awarded with a scholarship to take part in one of the summer schools organised by the Future Food Institute.
New Publication
[24-04-2019] An edited volume has been drafted in honour of GEM-STONES Supervisory Board President, Professor Mario Telò's (LUISS Guido Carli di Roma & ULB-IEE) research career. Published by Editions de l'Université de Bruxelles, 'Rethinking the European Union and its Global Role from the 20th to the 21st Century. Liber Amicorum Mario Telò' covers the scientific debates that Prof. Telò has been involved in during his career.
Contributors include, among others, GEM-STONES Lead Scientist Prof. Anne Weyembergh (ULB-IEE), GEM-STONES supervisors Prof. Ramona Coman (ULB-IEE), Prof. Jean-Michel De Waele (ULB); Prof. Nicolas Levrat (UNIGE), Prof. Leonardo Morlino (LUISS), as well as GEM-STONES Scientific Coordinator Mr. Frederik Ponjaert (ULB-IEE).
open vacancies & CALLS FOR PROPOSALS
Call for Applications @MSCA Individual Fellowships
[28-06-2019] The European Union provides a record € 296,5 million to support experienced researchers of any nationality, in any field of research. The goal of the Individual Fellowships is to enhance the creative and innovative potential of experienced researchers, wishing to diversify their individual competence in terms of skill acquisition through advanced training, international and intersectoral mobility. The call is open to researchers who have a doctoral degree or at least four years' full-time research experience by the time of the call deadline.
Applications close: 11th September 2019 // More information here
Assistant Professor @Univ. of Amsterdam, NL
[14-06-2019] European Studies of the Faculty of Humanities has a vacancy for an Assistant professor of Political and Legal Governance of the EU. The successful candidate will be expected to provide teaching in the broad area of contemporary European studies in first-year introductory courses, advanced bachelor courses, and at the MA level. Applicants must hold a PhD degree in a pertinent discipline and demonstrable research and teaching experience in the broad area of political and legal governance of the EU
Applications close: 25th August 2019 // More information here
Call for Applications @ECIT Summer University, BE
[11-06-2019] ECIT Foundation will organise a two-day Summer University on European Citizenship, hosted at the Institute for European Studies of the ULB in Brussels on 2nd-3rd of September 2019. A limited amount of scholarships is available to cover part of the travel costs for overseas attendees to come to Brussels, in order to participate in the summer university and engage with policy-makers, activists and researchers. This fourth edition of the Summer University will focus on the European citizens' agenda after the 2019 European elections
Applications on-going // More information here. Registration form here
Traineeship @GMF, BE
[17-04-2019] The German Marshall Fund of the United States, Brussels Office is accepting on a rolling basis Erasmus-funded traineeship applications to help with its programming activities. The successfull applicant must hold at least a Bachelor's degree, and be eligible for Erasmus + program funding provided by their universities, or other similar grants through their governments/national institutions. The trainee will work closely with senior GMF staff to provide research, logistical and administrative support.
More information here.
Please note: All 15 available fellowships have been awarded, and there will be no Call for Applications for the Academic Year 2019-2020.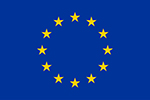 This project receives funding from the European Union's Horizon 2020 research and innovation programme under the Marie Sklodowska-Curie Grant Agreement No 722826.