Back
The EU and ASEAN Approaches in Fighting Terrorism: Collaboration or Cooperation?
In Special Edition: Countering Daesh Extremism: European and Asian Responses. From Panorama: Insights into Asian and European Affairs
Singapore: Konrad-Adenauer-Stiftung. Oct 2016 [Link & PDF]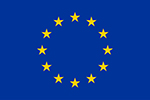 This project receives funding from the European Union's Horizon 2020 research and innovation programme under the Marie Sklodowska-Curie Grant Agreement No 722826.