Doctoral defence of Kevin Kalomeni

16:00 - 18:00
Public
Public Doctoral Defense Kevin Kalomeni (LUISS/Université Laval)
on "Proliferation of PT1s and EU Trade Policy. Variations in the Design of Regulatory Cooperation Mechanisms in CETA"
Add to calendar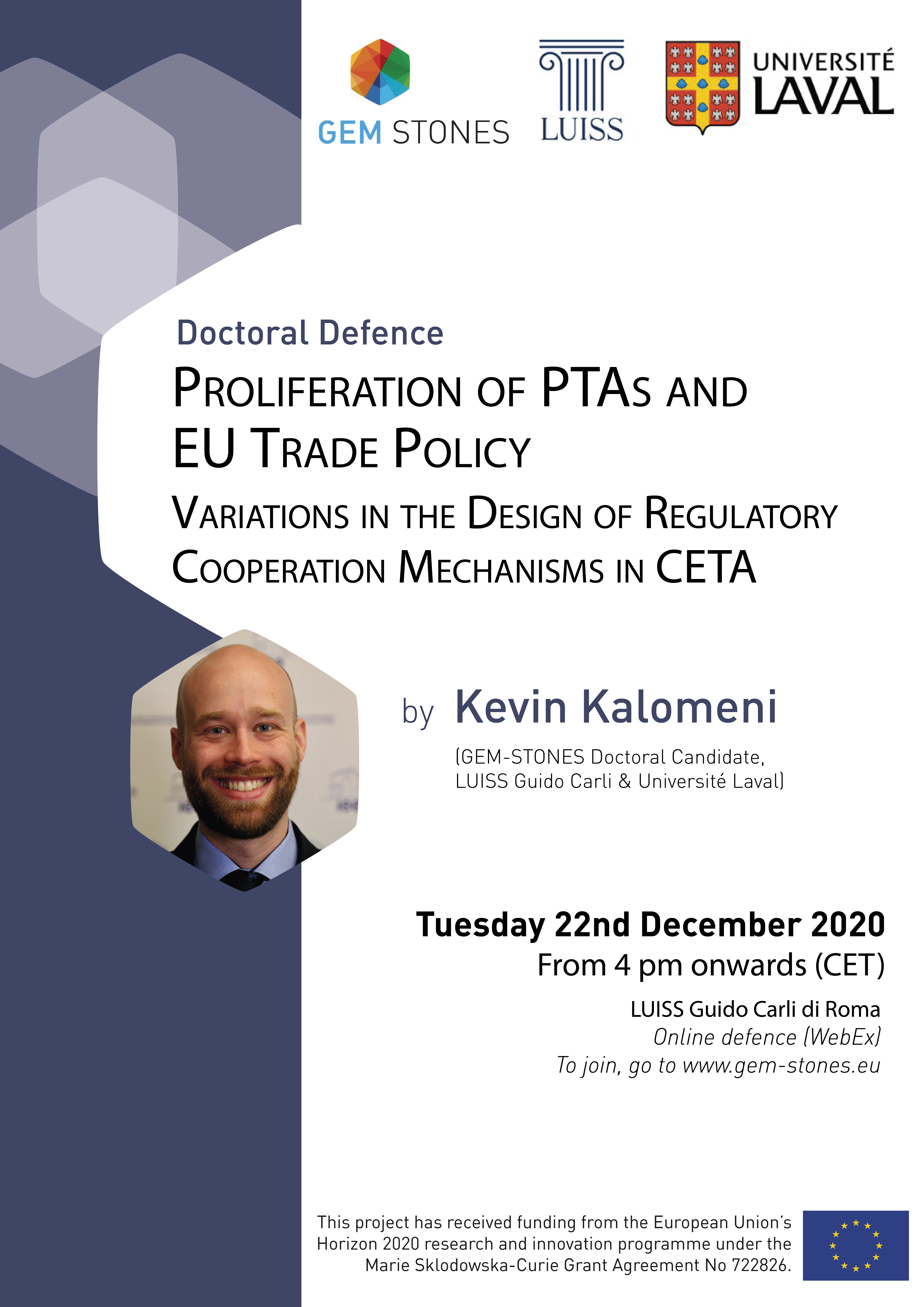 GEM-STONES Doctoral fellow Kevin Kalomeni (LUISS Guido Carli & Université Laval) will publicly defend his thesis entitled:
PROLIFERATION OF PTAs AND EU TRADE POLICY. VARIATIONS IN THE DESIGN OF REGULATORY COOPERATION MECHANISMS IN CETA
Date & Time: Tuesday 22nd of December 2020, 16:00 onwards (CET)
Location: Online event on Webex, organised by LUISS Guido Carli
*Please note in connection with the online defense that the microphone and camera of all spectators must be turned off

Link to the event: https://luiss.webex.com/luiss/j.php?MTID=m0591474442a06d5e6aaa3c2dbdd4b2f5 (requires the download of the WebEx plug-in)
Research abstract
Regulatory cooperation plays an increasing part in the European externalization strategy. This research aims for increasing the understanding of this phenomenon by providing a typology of different regulatory schemes used within trade agreements. While past research focused on legal design variation across trade agreements, this thesis concentrates its efforts on legal design variation intra-agreement, specifically variation between regulatory sectors. In a recent addition to the European trade network, the EU and Canada presented the Comprehensive and Economic Trade Agreement (CETA) as the "gold standard" for the new generation of trade agreements. This thesis thus looks at this referential treaty and attempts to answer the following question: What are the different types of regulatory design within CETA, and how can the variation in types across regulatory sectors be explained?
Jury members:
Prof. Arlo Poletti (co-supervisor, LUISS Guido Carli)
Prof. Louis Bélanger (co-supervisor, Université Laval)
Prof. Thomas Christiansen (LUISS Guido Carli)
Prof. Jean-Frédéric Morin (Université Laval)
Prof. Ferdi De Ville (Ghent University)