Doctoral defence of Laura Gelhaus

12:00 - 14:00
Université de Genève (Online)
Public Doctoral Defense of Laura Gelhause (University of Warwick/UNIGE)
on "The External Dimension of the Common Agriculture Policy: Shaping Rural Spaces in Georgia"
Add to calendar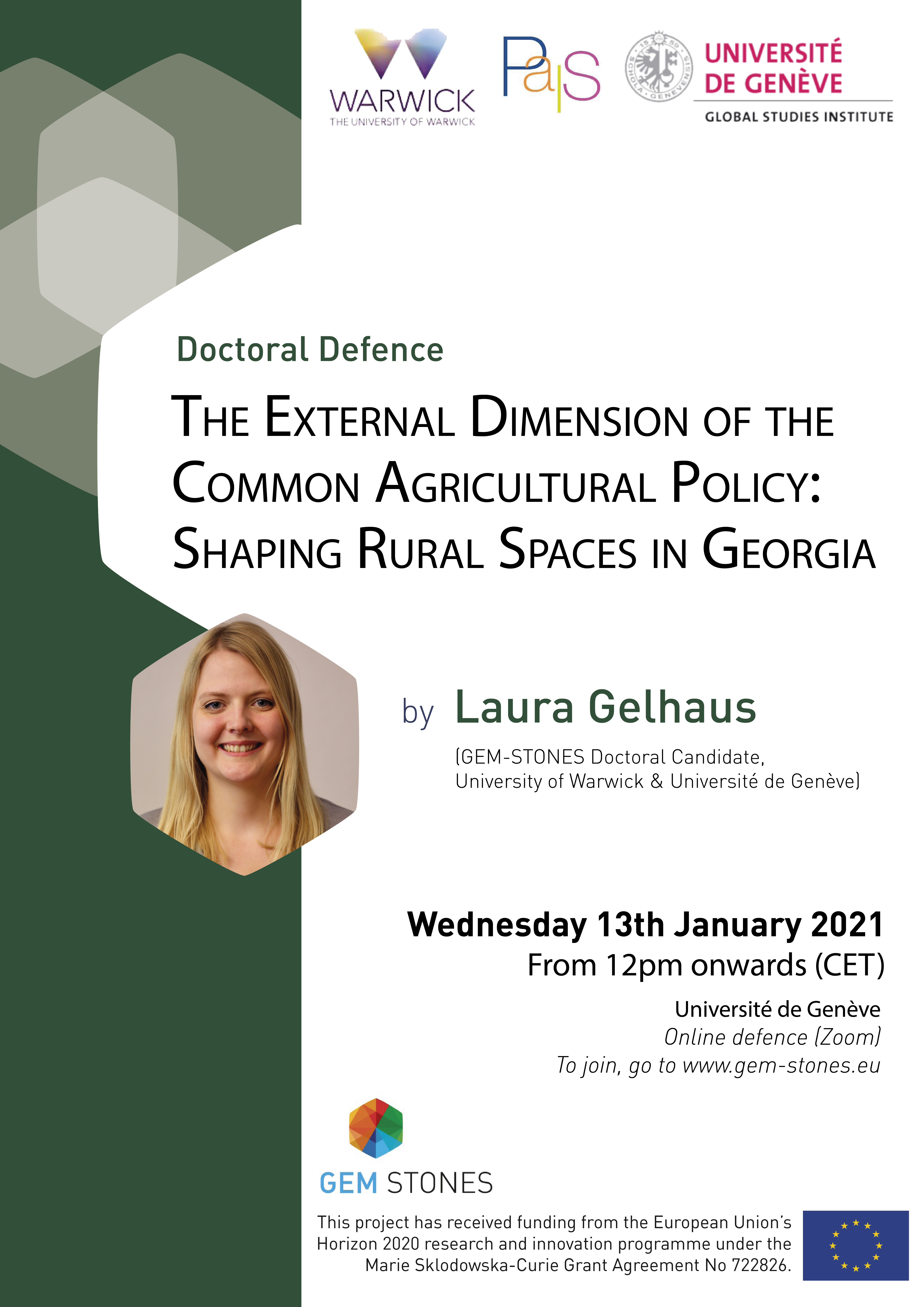 GEM-STONES Doctoral fellow Laura Gelhaus (University of Warwick & Université de Genève) will publicly defend her thesis entitled:
THE EXTERNAL DIMENSION OF THE COMMON AGRICULTURAL POLICY: SHAPING RURAL SPACES IN GEORGIA
Date & Time: Wednesday 13th of January 2021, from 12:00 onwards (CET)
Location: Online event on Zoom, organised by Université de Genève
*Please note in connection with the online defense that the microphone and camera of all spectators must be turned off

Link to the event: https://unige.zoom.us/j/98775230649
To participate, please contact Prof. Sandra Lavenex (Sandra.Lavenex@unige.ch) in order to receive the passcode for the defence.

Abstract
The Common Agricultural Policy (CAP) is one of the oldest and most controversial EU policies. Yet, while it has been criticised for the external effects of internal instruments such as subsidies, little is known about whether and how the EU has encouraged the adoption of CAP elements in non-member states. The thesis fills this research gap by investigating how the CAP is externally governed, and how effective its external governance has been. Specifically, it focuses on rural development, a more recent and lesser studied aspect of the CAP. It applies the external governance framework to two rural development instruments in Georgia: Geographical Indications (GIs) which protect agricultural products from certain places against imitation, and the LEADER programme which supports local development projects.
Contrary to the sectoral and institutionalist expectations of the framework, the instruments follow different modes of external governance, which are largely determined by domestic contexts. Despite the difference in modes, and despite the general absence of EU-hierarchy in the process, the external governance of both instruments is effective, and they shape Georgian rural spaces in similar ways. This includes the 'Europeanisation' of rural spaces and the further empowerment of existing elite actors. Therefore, the thesis contributes to the EU external governance literature the study of an under-researched sector, and it moves beyond the sectoral level through its engagement with policy instruments. The thesis also extends the framework's measure of effectiveness by investigating the instruments' consequences through the concept of rural space. Thereby, it provides heuristics that could benefit future research on EU external action, namely rurality, place, land, and territory. Finally, thesis adds empirical insights to the literature on the CAP and the two instruments, which have seldom been studied in post-Soviet contexts, despite the rich and diverse rural contexts in the region.