Doctoral defence of Marta Matrakova

16:30 - 18:30
Public
Public Doctoral Defense of Matra Matrakova (UB/LUISS)
on "Political Transitions in the EU-Russia Shared Neighbourhood. Geopolitics and Values as Opportunities or Challenges for the Quality of Democracy"
Add to calendar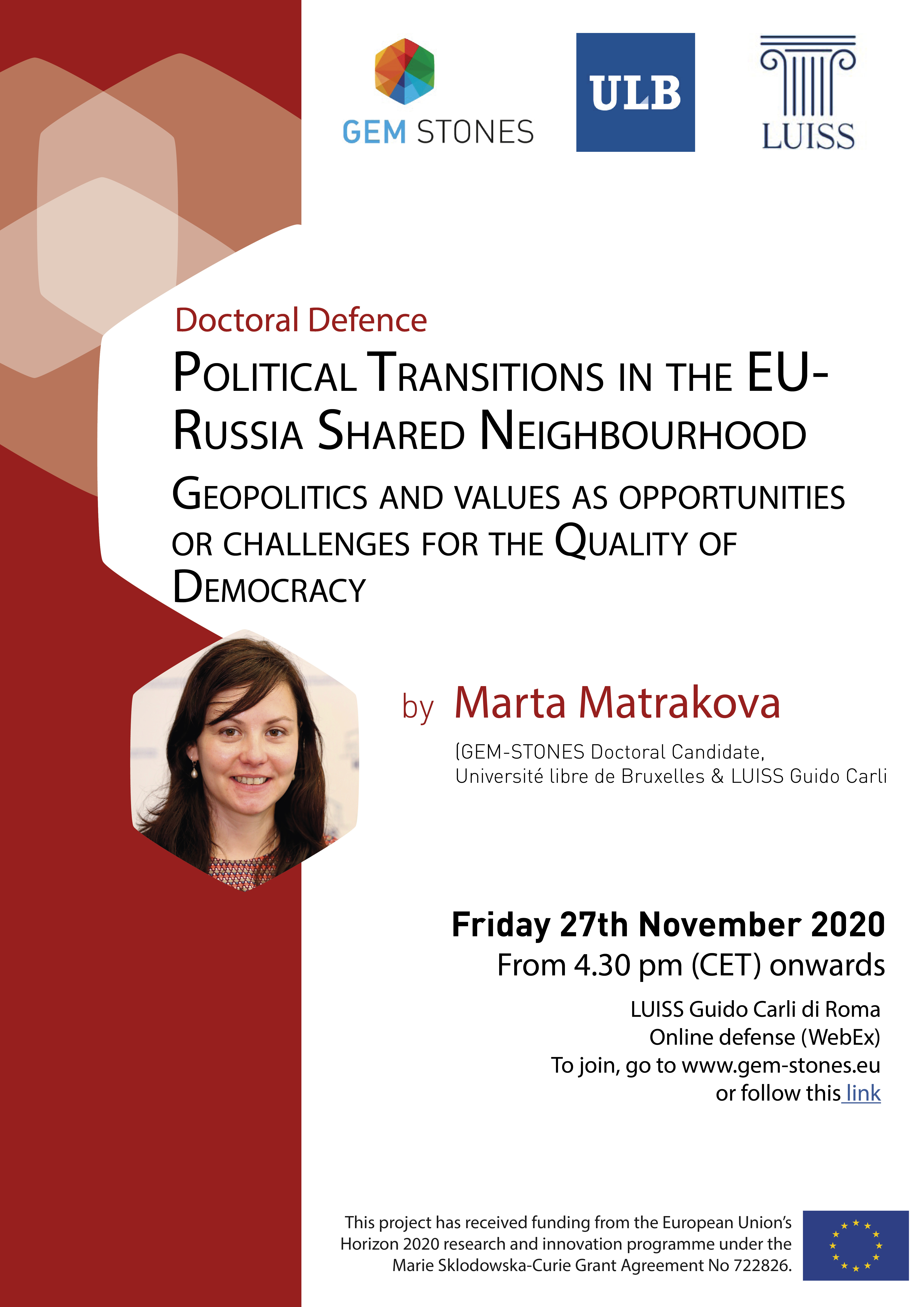 GEM-STONES Doctoral fellow Marta Matrakova (Université libre de Bruxelles & LUISS Guido Carli) will publicly defend her thesis entitled:
POLITICAL TRANSITIONS IN THE EU-RUSSIA SHARED NEIGHBOURHOOD. GEOPOLITICS AND VALUES AS OPPORTUNITIES OR CHALLENGES FOR THE QUALITY OF DEMOCRACY
Date & Time: Friday 27th of November 2020, 16:30 onwards (CET)
Location: Online event on Webex, organised by LUISS Guido Carli
*Please note in connection with the online defense that the microphone and camera of all spectators must be turned off

Link to the event: https://luiss.webex.com/luiss/j.php?MTID=md2468de3fae32dda22fe906538c1a7b8 (requires the download of the WebEx plug-in)
Research abstract
This research explains how the interaction between foreign and domestic policy domains takes place and how it influences domestic political change. For this purpose, the cases of Armenia, Georgia and Moldova are analysed with specific focus on the external influence of Russia and the European Union. Consequently, this study traces the interaction between domestic and international actors at the light of the broader regional context, including the Eurasian Economic Union and the European Union. The study uses the analytical tool defined by Morlino (2011), with theoretical contributions from social constructivism and historical institutionalism in order to emphasize the need to contextualise the actions, preferences and identities of domestic actors in a broader historical perspective, which acknowledges the relevance of past legacies. Following the analytical tool, suggested by Morlino (2011), the research focuses on institutional reforms in the fields of Rule of Law, Inter-Institutional and Electoral Accountability, in addition to Participation and Competition as horizontal dimensions. A combination of process-tracing and network analysis provides insight on the strategies of domestic and international actors intervening in the reform processes.
Jury members:
Prof. Jean-Michel De Waele (co-supervisor, Université libre de Bruxelles)
Prof. Leonardo Morlino (co-supervisor, LUISS Guido Carli)
Prof. Luca Tomini (Université libre de Bruxelles)
Prof. Mario Telò (LUISS Guido Carli)
Prof. Antony Todorov (New Bulgarian University)