NEWS ARCHIVE: 2019-2020
CfA: Assistant Professor International & European Politics
[27-03-2020] Vrije Universiteit Brussels is seeking to rectruit a Fulltime Assistant Professor in International and European Politics for the Faculty of Social Sciences and Solvay Business School. This is a tenure track appointment with both teaching and research responsibilites. The successful candidate holds a PhD in a relevant field and has both English (C1-level) and Dutch (B2-level) language skills. Deadline for submissions is 2nd of April 2020. Deadline for submissions: 2nd of April 2020 // More information available here
CfA: Teaching Fellow in Political Theory @Univ. of Warwick, UK
[27-03-2020] The Department of Politics and International Studies (PAIS) is recruiting a teaching fellow for 2-year fixed term contract, starting in September 2020. The successful candidate will be required to undertake teaching duties in Political Theory and will have the ability and willingness to teach on a variety of modules across the History of Political Thought and Contemporary Political Theory. They will also support the supervision of dissertations at undergraduate and postgraduate levels. Deadline for submissions: 5th of April 2020 // More information available here
CfA: Post-doctoral Fellowships in Japan
[27-03-2020] Japan Society for Promotion of Science (JSPS) provides opportunities for postdoctoral researchers from other countries to conduct, under the guidance of their hosts, cooperative research with leading research groups in universities and other Japanese institutions. Duration of the fellowships is 12-24 months, and they cover all fields of the humanities, social sciences and natural sciences. Applicants must have obtained their doctoral degree within six years of the date the fellowship goes into effect. Diploma must be presented before the fellowship starting date (not required when submitting the application). The call remains open until 5th of May 2020. Deadline for submissions: 5th of May 2020 // More information available here
CfA: Assistant Professor @Open University, NL
[26-02-2020] The Open Universiteit (Open University of the Netherlands, or OU) is seeking to recruit an Assistant Professor in European and/or international law, to be involved in the preparation and development of courses within Bachelor's and Master's programs within the Department of Criminal Law, International Law, and European Law. The successful candidate is expected to: develop and deliver coherent educational contributions within the Faculty's educational programme and the Department; conduct independent scholarly research in the field of international or European law in line with the specific Faculty research programme "Law in an individualized network society" and the Sector Plan; become a part of, and actively contribute to, the flourishing of the new OU research group within the framework of the Sector Plan. Deadline for submissions: 23rd of March 2020 // More information available here
CfA: 2-year Post-doctoral Fellowship @ULB, BE
[21-02-2020] Université libre de Bruxelles welcomes applications to a full-time post-doctoral position to work in the framework of a research project dealing with "The politicisation of fiscal discipline and the oversight of national budgets in the European Union". The project is funded by an Incentive Grant for Scientific Research (MIS) from the FNRS (the Fund for Scientific Research in French-Speaking Belgium). The selected researcher will be part of a team supervised by Prof. Amandine Crespy and is expected to start on 1st July 2020 for a duration of two years. The successful candidate will hold a PhD degree for no longer than 5 years at the date of hiring. Excellent command of English is required, with French, Italian or Portuguese skills considered an asset. Deadline for submissions: 30th of March 2020 // More information available here
Call for Proposals @ECPR Conference, AT
[10-01-2019] The 14th General Conference of the European Consortium for Political Research (ECPR) will be held at the University of Innsbruck in Austria on 26th–28th of August, 2020. With around 500 Panels across c. 70 Sections, the academic programme covers the breadth of political science; developed and delivered by high-profile members of the profession. As a leading industry event, the General Conference continues to facilitate and nurture the development of political science across Europe; delivering an interactive and engaging platform for discussion, debate and innovative thinking. While the sections have been confirmed, the call for full Panels and individual Papers is still open. Deadline for submissions: 18th of February, 2020 // More information here
Call for Proposals @WIRE Workshop on IR, CA
[16-12-2019] Environmental clubs, such as climate clubs, are voluntary leagues of states or other actors that seek to achieve environmental mitigation goals. The two-day workshop on "Design of Environmental Clubs: Moving from theories to policy proposals" will bring together a diverse group of scholars using a wide range of research methodologies to analyze, evaluate, and inform environmental club design practices and suggest strategies to make effective environmental clubs. Hosted at the Simon Fraser University in Vancouver on 4th – 5th of June 2020, the workshop welcomes short research notes (of around 3000 words) that explore any design feature of environmental clubs or that engage with the determinants of effective environmental clubs more broadly. No registration fee, with limited grants available. Deadline for submissions: 14th of February 2020 // More information here
Open Vacancy: Post-doctoral Researcher @Uni. de Genéve, CH
[16-12-2019] The Department of Political Science and International Relations at the University of Geneva invites applications for a Postdoctoral Research Fellow to join a research team working on a new project "Evaluating the Pursuit of International Development Norms through Peer Review: Evidence from the OECD Development Assistance Committee". The project is directed by Professor Simone Dietrich (Principal Investigator) and supported by the Swiss National Science Foundation. The project studies the diffusion of international development norms through peer-review, with a particular focus on the OECD Donor Assistance Committee (DAC), which has assessed the foreign aid practices of member states for more than 50 years. The successful candidate will hold a PhD defended no later than 3 years ago (date of viva voce) at time of engagement or near completion, in political science, sociology, economics, statistics, computer science, or related field. French is not required. Deadline for submissions: 15th of February 2020 // More information available here
Call for Applications: Doctoral Progamme @GIGA, DE
[16-12-2019] The Doctoral Programme of GEM-STONES partner GIGA German Institute of Global and Area Studies invites applications from prospective doctoral students to join the programme on 1st October 2020. This is a three-year structured programme for junior researchers, in which they can pursue their research and professional development, particularly in the field of comparative area studies (CAS). Through academic exchanges and fieldwork, doctoral students engage with the "GIGA regions" and build their own networks. Additional grants are provided for fieldwork and conference attendance, and doctoral students are offered involvement in policy advice and knowledge transfer activities. Doctoral degrees will be awarded by one of GIGA's partner universities. Deadline for submissions: 1st of February 2020 // More information available here
UACES Doctoral Training Academy: 22nd Nov 2019 @Brussels, BE
[22-11-2019] The Doctoral Training Academy (DTA) is an annual 1-day event for PhD students and Early Career Researchers in European Studies and related disciplines, providing practical advice for researchers at all stages of their PhD, including the immediate years post-submission. This year's theme is teaching and the profession, with sessions on: Research-Led Teaching; Selling Your Teaching Skills to Employers; Technology in Teaching; Module Building; Inclusive Teaching, and Teaching on a Changing Europe. Registration is free and open to PhD students and ECRs worldwide whose research is on contemporary Europe or the European Union. Spaces are limited to 50. More information & registration here
Call for Papers @GTBLab Workshop, CH
[15-11-2019] Geneva Transformative Governance Lab will organise a workshop on 'The EU & its Member States Joint Participation in International Agreements', to be hosted on 15th-17th of April, 2020 by the Global Studies Institute of the University of Geneva. The organisers invite legal and political science PhD candidates and post-doctoral researchers to contribute either a theoretical legal reflection on the nature of the EU and its Member States' joint participation in international agreements; or a case-based contribution analyzing concrete examples of international agreements with joint participation of the EU and its Member States from EU and international law perspectives. Deadline for submissions: 13th of January, 2020 // More information here
Call for Papers & Proposals @ECPR-SGEU Conference, IT
[08-11-2019] The10th Biennial Conference of the Standing Group on the European Union (SGEU) of the European Consortium for Political Research (ECPR) will be hosted by GEM-STONES partner LUISS Guido Carli on 3rd – 6th of June 2020. The conference provides space for researchers from various backgrounds – political science, history, sociology, law, anthropology, philosophy, geography, economics – to present and discuss cutting-edge research focused on the pressing questions of European integration. The organisers are also offering funding for one or more pre-conference workshops dedicated to Early Career Researchers to be organised on 3 June 2020. Deadline for submissions: 16th of December 2019. More information about the conference here & more information about the ECR workshop funding here
One-year Jean Monnet Postdoctoral Fellowships @EUI, Italy
[08-11-2019] The Robert Schuman Centre for Advanced Studies (RSCAS) of The European University Institute in Florence, Italy, offers one-year Jean Monnet Fellowships to scholars who have obtained their doctorate more than 5 years prior to the start of the fellowship, i.e. 1 September 2020 for the academic year 2020-21. The Fellowship programme is open to post-docs, tenure track academics and those wishing to spend their sabbatical at the Robert Schuman Centre. The Centre offers up to 20 Fellowships a year. The three main research themes of the RSCAS are: (1)Integration, Governance and Democracy; (2) Regulating Markets and Governing Money; and (3) 21st Century World Politics and Europe. Deadline for applications: 25th of November 2019 // More information here
Doctoral Seminar: Ragnar Weilandt 15th Nov 2019 @ULB, BE
GEM PhD School fellow Ragnar Weilandt will publicly present his doctoral thesis produced within the framework of an Erasmus Mundus European Joint Doctorate between the University of Warwick (UK) and the Université libre de Bruxelles (ULB). The seminar will be followed by a formal defence at the University of Warwick.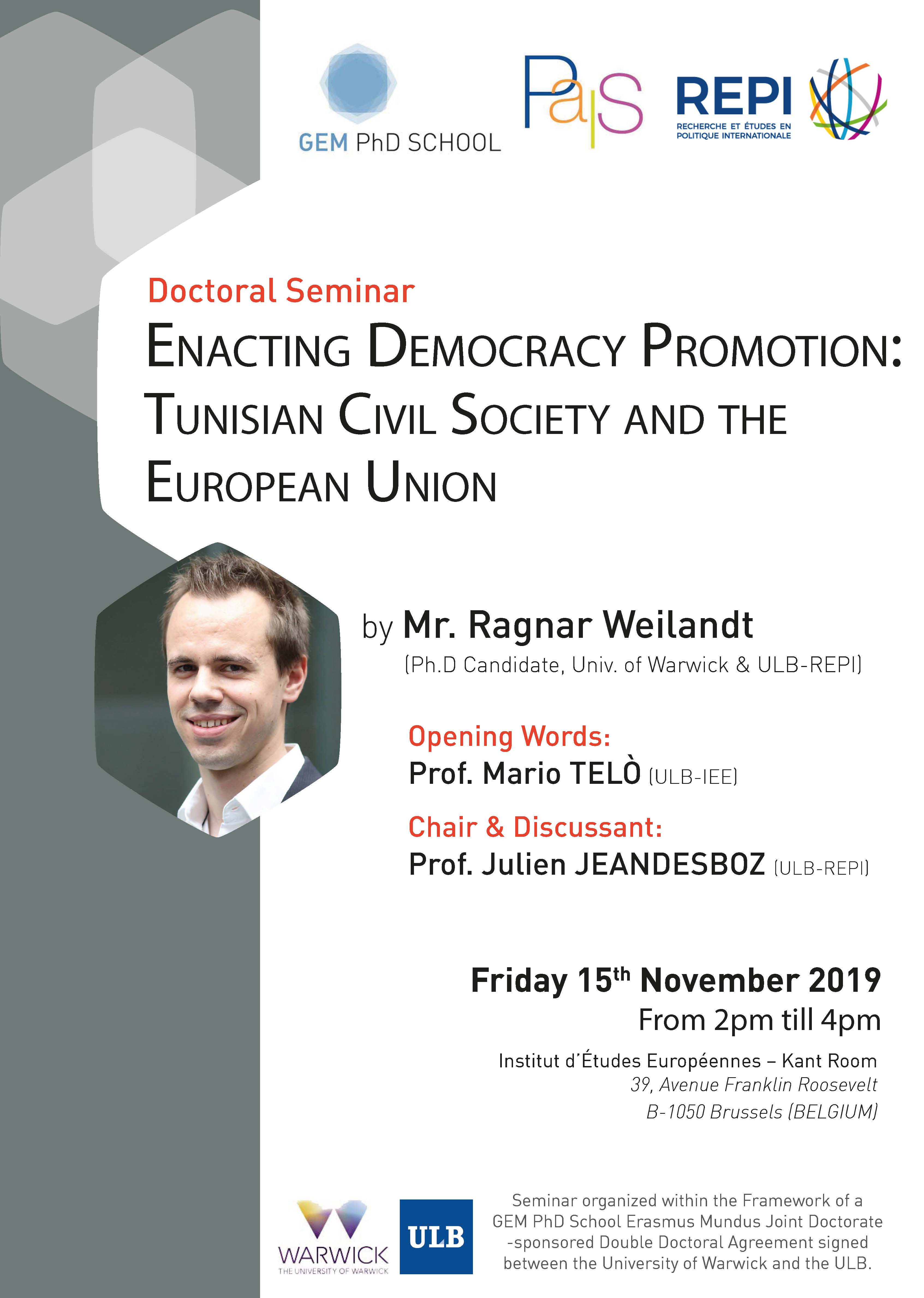 "ENACTING DEMOCRACY PROMOTION: TUNISIAN CIVIL SOCIETY AND THE EUROPEAN UNION"
By Ragnar Weilandt (Univ. of Warwick & ULB)
Date & Time: Fri 15th November 2019, 14:00-16:00
Location: Kant Room of the Institute for European Studies of the ULB. 39 Avenue Franklin Roosevelt, 1170 Brussels, BE
Call for Project Proposals @G3 Intra-University Projects
[04-10-2019] Representatives of the ULB, Uni. de Genève and Uni. de Montréal are invited to submit joint strategic proposals with an eye on promoting the key values of the G3: innovation, responsibility and French-speaking communities. The funds can be used for e.g. conferences, research stays, shared courses or joint publications. Deadline for submission of project proposals: 1st of December 2019 // More information here (FR).
Call for Papers @TUM Emerging Scholars' Workshop, DE
[24-09-2019] Technical University of Münich (TUM) School of Governance will organise an Emerging Scholars' Workshop on "Power Sharing or Power Shifts? Examining the role of public-private interactions in global governance" in Münich on 28-29 Nov 2019. Proposals are welcome from doctoral candidates and post-doctoral researchers, as well as junior faculty. Deadline for submission of paper proposals: 30th of September 2019 // More information here
Call for Papers @ECPR Joint Sessions, FR
[18-09-2019] The 48th European Consortium of Political Research (ECPR) Joint Sessions of Workshops will be organised in Toulouse, France from 14th to 17th of April 2020. Consisting of around 30 Workshops, each with no more than 15 carefully selected participants from all stages of their careers, topics are precisely defined and discussed intensively for four full days. Deadline for submission of paper proposals: 5th of November 2019 // More information here
Call for Papers @EUIA Conference, BE
[06-09-2019] The seventh edition of'European Union in International Affairs' (EUIA) Conference will take place in Brussels from 27th to 29th of May 2020 and focus on the theme 'Assessing the EU's Capacity to Act'. #EUIA20 will be the single major stopover of the academic conference circuit in Brussels. The EUIA Conference is organized by The Institute for European Studies at the Vrije Universiteit Brussel (IES-VUB), the Institut d'études Européennes at the Université libre de Bruxelles (IEE-ULB), the United Nations University Institute on Comparative Regional Integration Studies (UNU-CRIS) and Egmont – the Royal Institute for International Relations. Submission of paper abstracts and panel proposals is now open. Deadline for submissions: 14th of November 2019 // More information here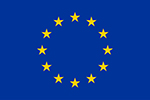 This project receives funding from the European Union's Horizon 2020 research and innovation programme under the Marie Sklodowska-Curie Grant Agreement No 722826.